When you watch a WSL event, you might think surfing have been doing backflips and 360s for millennia. The truth is that wave riding has grown into the sport that it is today over the years. David Attenborough may even claim that people have been surfing waves since the dawn of time.
While most people attribute surfing's evolution to the Hawaiians, there is still controversy about where surfing originated. Surfing, for whatever reason, creates a love of the ocean and a desire to be in the sea that lives on in wave riders of all shapes and sizes today. Continue reading to learn about surfing's enigmatic history, how it has evolved over time, and how it has evolved into what it is today.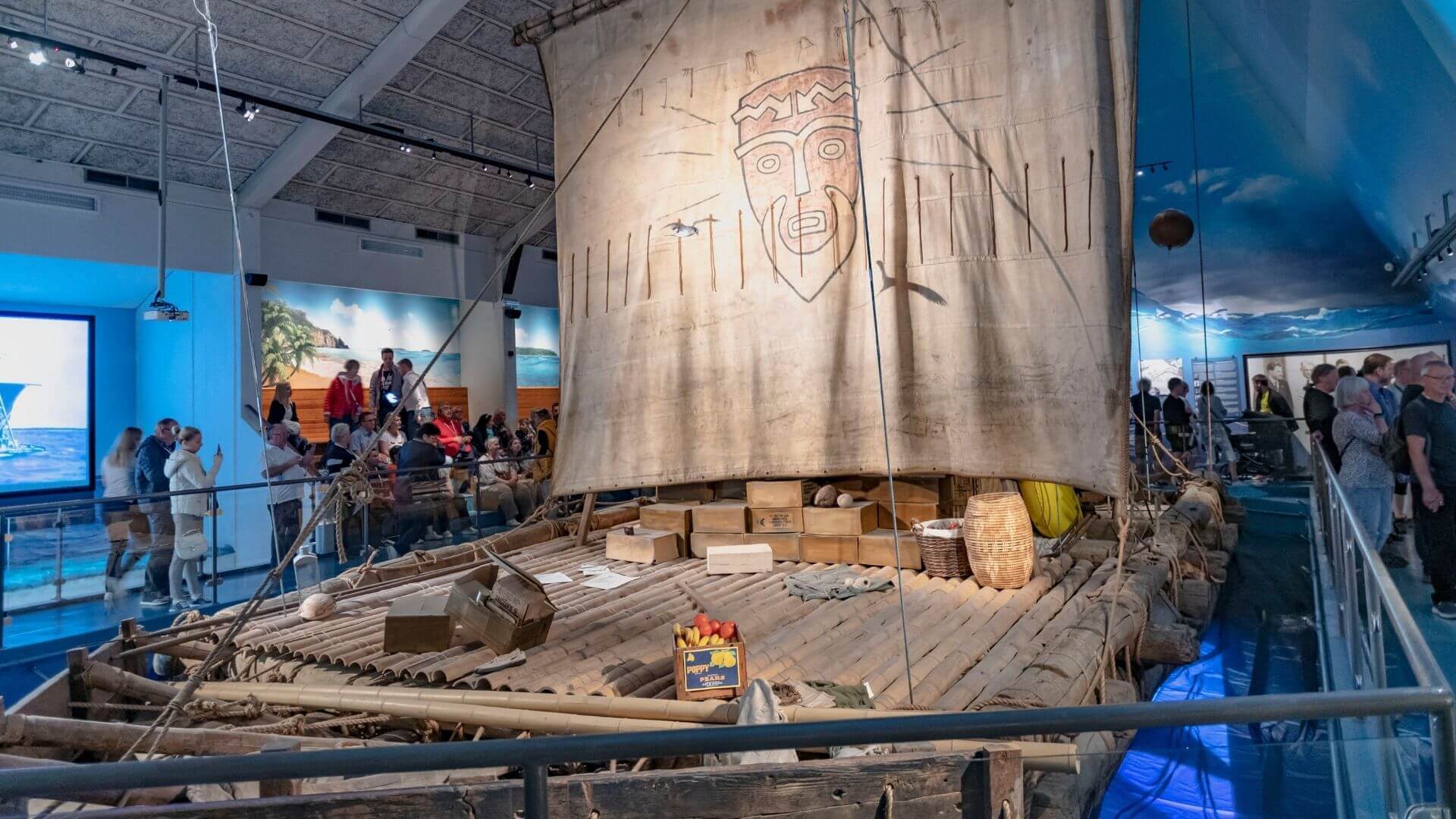 The legendary Kon-Tiki raft at the Kon-Tiki Museum.
According to most historians, surfing originated in Polynesian culture. But where do Polynesians come from? According to the elders, a European anthropologist who lived in French Polynesia claimed that Polynesians originated in the East from South American continents and rode thermal air currents across the ocean to Oceania.
While not proof of his theory, Thor Heyerdahl famously traversed the sea in the Kon-Tiki from Peru to the Marquesas Islands. This ship was built with only the necessary resources and technology, implying that humanity might have sailed across the Pacific to Polynesia.
The shared culture of wave riding in Polynesia and South America contributed to this relationship. For millennia, indigenous South American populations have invented canoes and paddles for surfing waves.
While this type of wave riding is unquestionably different from the technique employed by modern surfers, it shows that surfing may have progressed from wave riding in traditional boats to wooden planks.
Image credit: Surfing Association of Papua New Guinea – Andy Abel
Indigenous people in Papua New Guinea have been catching waves since the beginning of time. Belly surfing, like modern body surfing, is a method of catching waves that employs thin boards of wood known as 'palangs' (or, more accurately,'splinters' in English) for basic flotation. It's easy to see how this activity evolved into boogie boarding or even fashionable modern hand planes. As Chris Malloy so brilliantly noted, the New Guineans may have grown tired of shredding.
Captain Cook of Middlesbrough, England, led the first western trip to Hawaii, and his Surgeon, William Anderson, described what is now known as surfing. During his late-1700s journey, he portrayed native Hawaiians as virtually amphibious. These actions were motivated by their innate comfort in and out of the water. William photographed the first surfers gliding down the cliffs of Waikiki using large oblong wooden boards, a technique known as "wave sliding."
The Hawaiians had been surfing for centuries at this point. The sport grew out of a set of laws and taboos that governed practically all of Hawaiian culture known as Kapu. Wave sliding, sometimes known as "the sport of kings," was practiced by Hawaiians of all socioeconomic strata. Surfing proficiency led to success outside of the water in the shape of everything from universal respect to amorous exploits.
Certain breaks were reserved for the community's elite, and variances in board size and form were based on status. While we might suppose the guy with the 15-foot board is compensating for something, a royal member of Hawaiian society frequently rides on boards twice the size of what we see now, carrying up to 400 pounds.

As is typically the case, colonization wiped out all indigenous society, including surfing's significance in Hawaiian culture. Surfing was considered wicked by European and American missionaries, who discouraged involvement in its practice or ritual.
Rather than praying for waves with their local Kahuna following a dry spell, missionaries attempted to uncover indigenous spiritual traditions. You'd think they'd be kind to a guy; even Jesus was known to slip up now and then.
While white intruders nearly wiped off the Hawaiian people, boards carved from Koa or Breadfruit trees sat dormant for decades. Guns, viruses, and steel took their toll on a population of about one million people, leaving fewer than 40,000 by the end of the 1800s.
Surfing was hanging by a thread with Hawaiian culture by 1893, following the collapse of the native Monarchy. Despite a swarm of missionaries attempting to sink it, a heretofore spiritual practice governed by a strict code of conduct managed to stay afloat. With the death of its monarch, indigenous Hawaiians saw a resurgence of their culture, and surfing began to resurface.

Surfing had already begun to leave Hawaii in the early 1900s, with the legendary Duke Kahanamoku and the lesser-known George Freeth. As surfing spread to North America and Australia, many transplanted pilgrims hoped to learn to surf in Hawaii. One such transplant from the United States was Alexander Hume Ford.

He soon progressed to become a surfing champion with great goals. Ford hoped that the growth of surfing would motivate more white European people to colonize the Hawaiian islands. Despite Ford's efforts, Hawaii remains one of the most varied countries in the US, having become a state in 1959.
Surfing quickly expanded in popularity as a result of the new presentation of surfing around the world. With the arrival of new surfers came new technological advances, such as Tom Blake's first hollow wooden surfboard in 1929 and the invention of the fin in 1935.
 In the 1940s, fiberglass became an ideal substitute for wood, and Jack O'Neill's creation of the wetsuit provided access to surfing for ambitious wave riders all around the world. 
 
Fast forward to the 1960s shortboard revolution, a dizzying shift in surfing's longboard trajectory. Surfers on the north shore like Gerry Lopez spurred the shortboard revolution, which was quickly followed by Australian surfers like Bob McTavish, Nat Young, and Ian Cairns.

Surfing is changing and evolving as the sport spreads around the world. Human-made waves, such as the wave garden and 11-time world champion Kelly Slater's Surf Ranch, have been popular in recent years.

In 2021, surfing will be an official Olympic sport (all going to plan) despite the obvious postponement from 2020, a year we all most likely would like to move on from. And despite the best efforts of 1800's missionaries, surfing has grown to be more than a billion-dollar industry.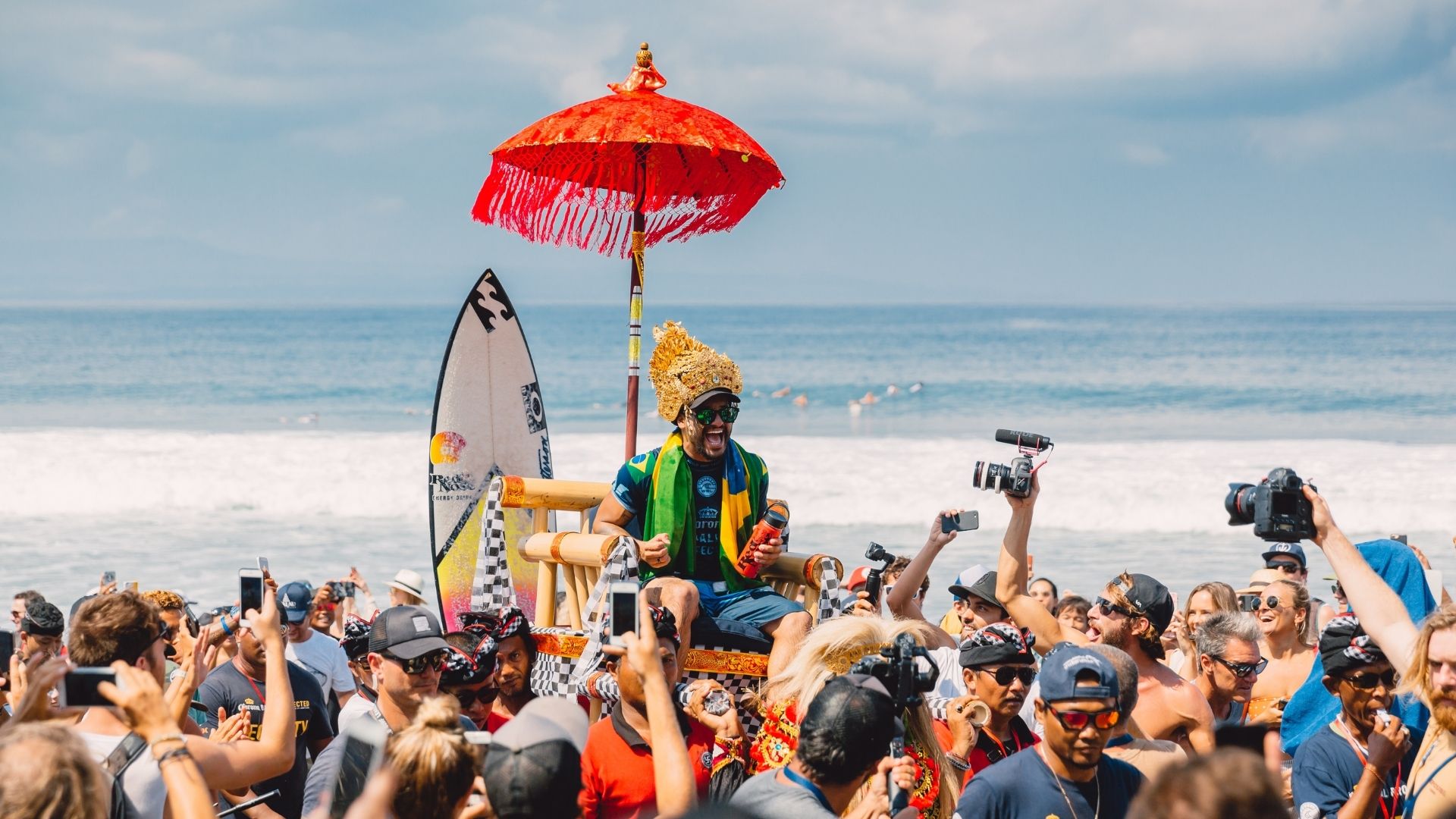 Italo Ferreira after winning the 2018 WSL Corona Bali Protected in Keramas, Bali before winning the world title in 2019.
However, surfing is still evolving. Brazil's competitive surf culture and France's rising talents are making their imprint on the World Surf League and surfing history. We should expect to see surfing transform in the future decades as the next generation of professional surfers pushes the boundaries of what's possible in the ocean. We should expect to see new and inventive board forms and surfing styles as the sport continues to expand and improve.

Whatever changes occur, we can anticipate surfing to remain a sport that celebrates a love of the ocean. So, how does surfing progress from here? We don't yet know how climate change will affect surfing. With the possibility of rising sea levels, could we see the emergence of urban surf breaks in regions where ocean surf was formerly abundant?
Alternatively, we may see a greater push for more sustainable surf items and solutions to plastic accumulation.