Are you planning a surf trip to Canggu? Here's all you need to know about surfing's hipster haven, including waves, lodging, and more!

Are you planning a surf trip to Canggu? Everything you need to know about the surf and accommodations, as well as beach bars and restaurants, is right here!
This previously peaceful, rice paddy-covered corner of Bali has suddenly blossomed into a buzzing hotspot attracting surfers, hipsters, digital nomads, and travelers from all over the world.
I've spent a lot of time on the beach in Canggu over the last eight years, with surfing as the main goal – so if you're organizing your own Canggu surf trip, this guide will undoubtedly help you make the most of the surf and your budget!
Canggu Surf Guide – Everything You Need To Know
Where Is Canggu?
Canggu is located on Bali's West Coast, approximately 19 kilometers from the International Airport and north of places like Kuta (15 kilometers) and Seminyak (10km away).
If you're flying into Bali and going directly to Canggu, I'd recommend booking an airport pickup ahead of time because the last thing you want to do after a long journey is deal with the airport taxi setup!

Canggu Surf Season
Canggu surf season, like the rest of the West Coast of Bali, is dry season, which runs from April to October. Expect continuous, blasting swells and pleasant weather during this period!
Shoulder season is also a great time to go surfing in Canggu because there are fewer people in the water.
Unfortunately, since Canggu has grown in popularity over the last 5 years, the days of uncrowded lineups are long gone – though if you're lucky, there are still some peaceful sessions to be had, especially on Saturday and Sunday mornings when everyone is busy nursing their hangovers!
There is something for everyone when it comes to waves in the area.
Batu Bolong
Canggu's primary surf area, located directly in front of Old Man's Bar, has one of the most consistent waves. It can handle a wide range of swell sizes and can be surfed on most tides. But watch out for the crowds, because there are a lot of surf lessons going on!
If you want to get away from the people in Canggu's main area, this punchy section down towards Finns Beach Club is great. Don't get me wrong: it won't be empty, but there will be plenty of peaks to select from.
Between Batu Balong and Echo Beach is Old Mans (not to be confused with the bar of the same name! ), which has slightly punchier waves than Batu Bolong and is semi-reef. This is one of my personal favorites.
Echo Beach, another of our favorites in the area, has both a reef and a beach break. The reef is greatest at mid-tide and has some really nice lefts. There is only one take-off location, so avoid it if it is congested. The beach break, on the other hand, offers a range of peaks and is also a lot of fun, with a lot of punchy parts to play with.

…and if you really want to escape the crowds, the further north out of Canggu you get the more empty the waves!
Are you interested in learning to surf in and around Canggu? Well, these Canggu surf camps are a fantastic way to meet new people and enjoy the waves.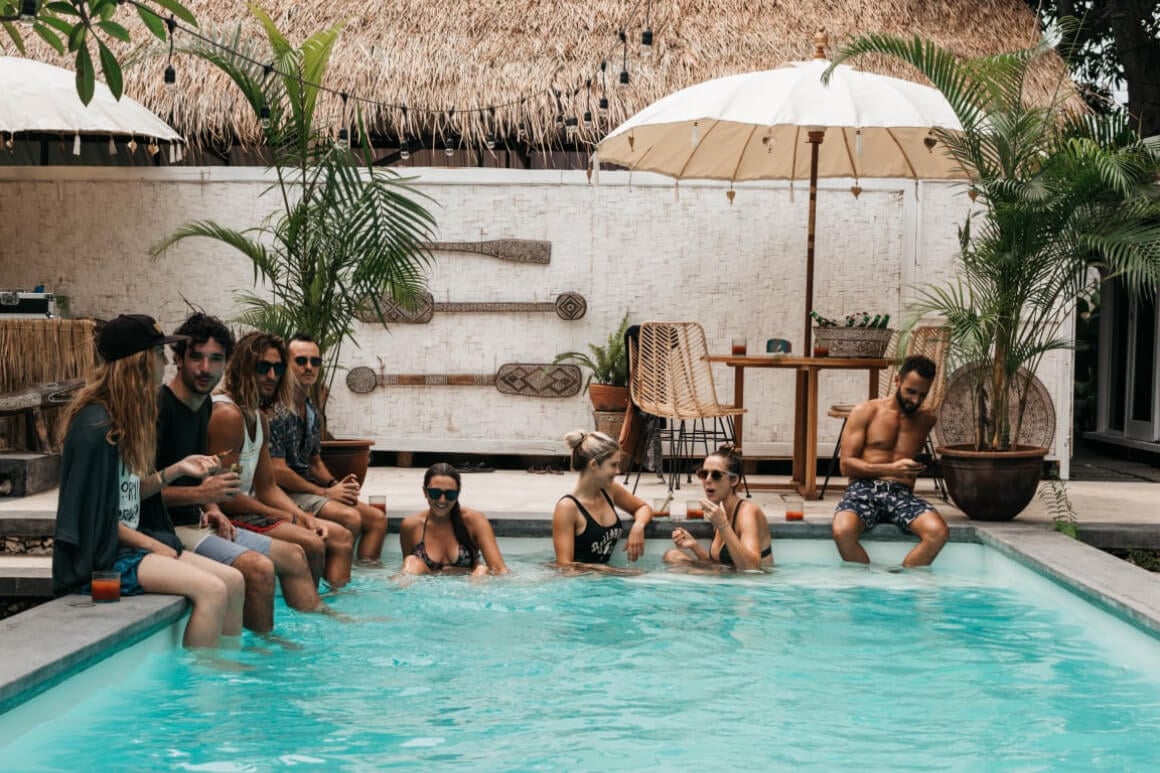 Mojo
Mojo Canggu's main strip location is just a short walk from the ocean. With clean, comfortable A/C dorms and private rooms, as well as a refreshing pool, it's an excellent choice for individuals who want to be close to everything. They also provide some incredible island hopping surf adventures.

LaPoint
Scandinavian hospitality at its finest. LaPoint surf camps are known for providing high-quality surf camp experiences, and their Canggu location is no exception. Expect excellent guides, luxurious accommodations, and a lovely pool.
Solid Surf House
The Solid Surf Camp has some fantastic Canggu Surf Camp Packages for all levels, along with amazing local guides, pleasant vibes, and a tropical setting. They also have a wonderful Bali Surf Teacher Course if you want to become a surf instructor.
Kima Surf
Kima Surf Canggu combines bohemian chic with spectacular instruction and is ideal for those looking for a little extra luxury with their surf camp experience, located just 250m from the beach.
There are numerous surf schools in Canggu, in addition to the surf camps mentioned above. The best bet is to go to the beach and talk to the surf hire people who also give instruction.

It's a terrific way to support the locals while also not breaking the wallet!
Board Hire
When it comes to surfboard rentals in Canggu, the beach hiring men are the way to go, with a vast selection to choose from. You can also negotiate a lower charge if you're only employing for a few days (or longer).
If you're going to Canggu for a bit, we'd recommend bringing your own board or stopping in at one of the many surf shops and picking up a freshie.
Canggu is absolutely packed with epic places to eat and foodies will be in absolute heaven here! When it comes to a post surf refuel you've got everything from Warungs (great value, local restaurants) right through to high end fine dinning.